Title:
Ryan F&cked Me (or chapter six of my love story)
Author:

calidearie
Rating:
R
Pairing:
Ryden?
POV:
Brendon's
Summary:
Brendon loves Ryan, maybe a bit too much, maybe so much so that it could mean the end to their "Ryden Love Story."
Disclaimer:
I don't own them, they own themselves. Dido owns the cut-text, and it has nothing to do with the story of this fic.
Author Notes:
(1)
UN
BETA'D by

longerthanwedo
(2) Sorry for the long delay in terms of updates, I'm gonna try to finish this up by the end of my lil' break. (3) Once again, I used the words "vanilla" and "slide"
prompted
by
[Bad username or site: @ livejournal.com]
for this chapter. Thank you!!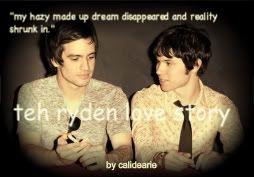 Teh Love Story
Ryan Named Me (or chapter one of my love story)
Ryan Kissed Me (or chapter two of my love story)
Ryan Found Me (or chapter three of my love story)
Ryan Saved Me (or chapter four of my love story)
Ryan Virginated Me (or chapter five of my love story)
Ryan F&cked Me (or chapter six of my love story)
Ryan Loves Me (or the last chapter, but not the end to my love)
ccc
( so let me go )
ETA: Best tweets of the day:

love this guy