Title:
Ryan Loves Me (or the last chapter, but not the end to my love)
Author:

calidearie
Rating:
R
Pairing:
Ryden
POV:
Brendon's
Summary:
This is it, believe it. Or not.
Disclaimer:
I don't own them, they own themselves.
Author Notes:
It's been fun, hope you enjoyed!
[ETA:]
Author Notes II (as of 07/11/08):
This had been written and posted prior to the split of Panic at the Disco, thank goodness, or it would have taken away from the story. I did not make this post public because I didn't know if I wanted to extend it. And now, at this point, because of current events I feel I will not be able to continue. With that said, I give you the last chapter! Thank you for supporting me and dealing with my MIA moments. I love you all!
Author Notes III (as of 07/24/09):
I needed a beta. I found a beta. She was awesome. Thank you,

longerthanwedo
! I couldn't have posted without you!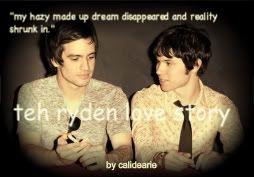 Teh Love Story
Ryan Named Me (or chapter one of my love story)
Ryan Kissed Me (or chapter two of my love story)
Ryan Found Me (or chapter three of my love story)
Ryan Saved Me (or chapter four of my love story)
Ryan Virginated Me (or chapter five of my love story)
Ryan F&cked Me (or chapter six of my love story)
Ryan Loves Me (or the last chapter, but not the end to my love)
ccc
( Thank you for reading )